British Envoys to Germany. Volume I: 1816-1829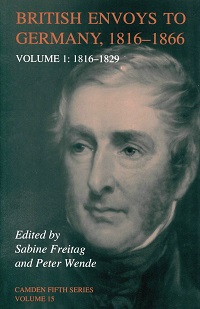 Contents
| | |
| --- | --- |
| Acknowledgements (Peter Wende) | vii |
| Introduction | ix |
| Editorial principles and technical details | xxiii |
| | |
| Reports: | |
| Diet of the German Confederation (Frankfurt) | 1 |
| Prussia (Berlin) | 55 |
| Bavaria (Munich) | 243 |
| Württemberg (Stuttgart) | 307 |
| Saxony (Dresden) | 383 |
| Austria (Vienna) | 449 |
| Annotated index of names | 519 |
| | |
| Subject index | 587 |
Volume I: 1816-1829
This edition consists of official reports sent by British envoys to Germany to the Foreign Office in London. The diversity and number of missions within the German Confederation offers the reader an opportunity for a pluralistic perception of German affairs by several British diplomats. The selection represents their main attitudes to the political, economic, cultural, military, and social situation in the German states. All despatches relevant to this first volume which covers the period 1816-1829 have been transcribed from the original for the first time.
Order Volume I (this link will take you to CUP). The volume is also available at Cambridge Core. Check with subscribing libraries for remote access information.
Citation
Sabine Freitag und Peter Wende (eds.),
British Envoys to Germany, 1816-1866. Volume I: 1816-1829.
Camden Fifth Series, 15.
Cambridge: Cambridge University Press for the Royal Historical Society in association with the German Historical Institute London. 2000.