British Envoys to Germany. Volume III: 1848-1850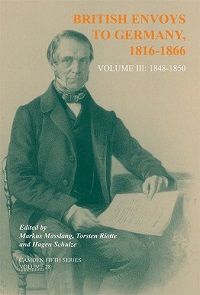 Contents
| | |
| --- | --- |
| Acknowledgements | vii |
| Introduction | 1 |
| Editorial principles and technical details | 15 |
| | |
| Reports: | |
| Diet of the German Confederation (Frankfurt) | 19 |
| Prussia (Berlin) | 105 |
| Hanse Towns (Hamburg) | 185 |
| Hanover | 227 |
| Saxony (Dresden) | 267 |
| Württemberg (Stuttgart) | 309 |
| Bavaria (Munich) | 355 |
| Austria (Vienna) | 399 |
| Annotated index of names | 457 |
| | |
| Subject index | 503 |
| | |
Volume III: 1848-1850
The diplomatic correspondence of the years 1848 to 1850 vividly illustrates the importance of the 1848 revolution and its aftermath as an epoch-making event in German and European history. It reveals the attitudes and perceptions of British observers in a period of great diplomatic activity and vigilance. The developments and changing political situation between the outbreak of the revolution and the start of the Dresden Conference in late 1850 are reflected by the official British observers at the level both of the individual member states of the Confederation and of Germany as a whole.
Order Volume III (this link will take you to CUP). The volume is also available at Cambridge Core. Check with subscribing libraries for remote access information.
Citation
Markus Mösslang, Torsten Riotte and Hagen Schulze (eds.),
British Envoys to Germany, 1816-1866. Volume III: 1848-1850.
Camden Fifth Series, 28.
Cambridge: Cambridge University Press for the Royal Historical Society in association with the German Historical Institute London. 2006.