British Envoys to Germany. Volume IV: 1851-1866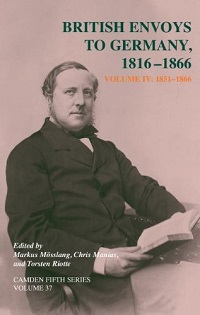 Contents
| | |
| --- | --- |
| Acknowledgements | vii |
| Introduction | 1 |
| Editorial principles and technical details | 25 |
| | |
| Reports: | |
| Diet of the German Confederation (Frankfurt) | 27 |
| Prussia (Berlin) | 93 |
| Hanse Towns (Hamburg) | 177 |
| Hanover | 219 |
| Saxony (Dresden) | 281 |
| Württemberg (Stuttgart) | 339 |
| Bavaria (Munich) | 395 |
| Austria (Vienna) | 451 |
| Annotated index of names | 517 |
| | |
| Subject index | 557 |
| | |
Volume IV: 1851-1866
This volume of British Envoys to Germany presents official reports sent from the British missions in Frankfurt, Berlin, Hamburg, Hanover, Dresden, Stuttgart, Munich and Vienna. The diplomatic correspondence selected for volume IV provides strong evidence that the period between the Dresden Conferences of 1851 and the Austro-Prussian war of 1866 should be seen as more than just a time of transition between the revolution of 1848 and German unification. In addition to international affairs and Anglo-German relations, the dispatches cover the federal dimensions of German politics and the policies and societies of the federal states.
Order Volume IV (this link will take you to CUP). The volume is also available at Cambridge Core. Check with subscribing libraries for remote access information.
Citation
Markus Mösslang, Chris Manias and Torsten Riotte (eds.),
British Envoys to Germany, 1816-1866. Volume IV: 1851-1866.
Camden Fifth Series, 37.
Cambridge: Cambridge University Press for the Royal Historical Society in association with the German Historical Institute London. 2010.