Exhibition "Neuland / New Territory"
Photographs by Claudio Hils
5 November 2008 to 17 March 2009
at the German Historical Institute London
From 1989 to 1999 the Essen photographer Claudio Hils used his camera to observe German unification. His observations are documented in a fascinating book and exhibition entitled Neuland. This can probably best be translated as 'new territory'.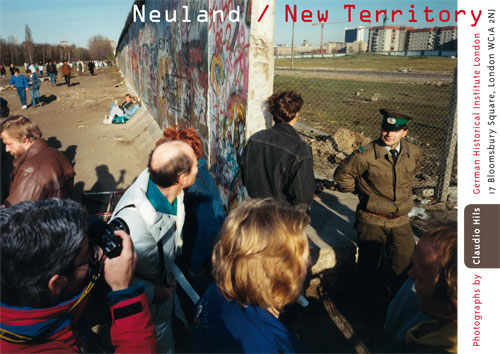 'New territory' for the curious 'Wessis', the inhabitants of former West Germany, meant the so-called 'new states' of the former East Germany , while for the men, women and children of former East Germany 'new territory' meant the 'West', the cities and states of West Germany to which they were able to travel for the first time. And for both sides this new territory was the new German state struggling to find a new identity after the fall of the wall in 1989 and unification in 1990.
Claudio Hils captures this triple dimension of encounters with new territory in precise and penetrating pictures of people, situations and material surroundings in Berlin and other parts of the former GDR. Members of a Carneval club from Mainz are shown integrating the public party atmosphere into their Rhenish carnival mood at the Brandenburg Gate in November 1989, while at the same time, also November 1989, Hils captures the pensive faces of people crossing from East to West Berlin at the Schlesisches Tor station. In his photos of the 1990 election campaign, Hils contrasts the modern machine of the West and its mass public gatherings in Berlin with the sad charm of a local election party in a Leipzig pub. And then there is Hils' fascination with buildings and building sites, ambivalent symbols of what the German government terms 'Aufbau Ost' , the reconstruction of the East. Finally we see derelict border posts, swiftly decaying testimonies to the Cold War era.
These tensions are captured in the exhibition in quiet pictures but also in some series catching the hectic movement of the period. In all of them we are drawn into the tensions and uncertainties of the situation and the future.
The exhibition will be opened on 4 November 2008 at 6pm and will be open to the public at the German Historical Institute London, 17, Bloomsbury Square, from 5 November to 19 December 2008.
Claudio Hils (1962) received his degree in Visual Communication at the University of Essen and has been working as a photographer and communication designer since 1993. He holds a professorship at the Fachhochschule Dornbirn in Austria. His books "Archive_Belfast" (2005), "Industrie_Zeit_Raum" (2006) and "New Building Works" (2007) have been shortlisted for the Deutsche Photobuchpreis. In 2003 Claudio Hils was elected Artist in Residence in Belfast, Northern Ireland.
Media at the Brandenburg Gate, Berlin, November 1989
Potsdamer Platz, Berlin, November 1989
Schlesisches Tor, Berlin, November 1989
Giving out money to welcome GDR citizens, Berlin-Kreuzberg, December 1989
Kudamm, Berlin, Dezember 1989
Travelling to the Monday Demo, Leipzig, Februar 1990
Demonstration to keep jobs, Borna, March 1990
Election campaign, Chancellor Helmut Kohl, Karl-Marx-Platz, Leipzig, March 1990
CDU election party, Leipzig, 18 March 1990
Withdrawal of CIS troops, Berlin, June 1994
Withdrawal of CIS troops, Berlin, June 1994
Blaue Adria, Borna, June 1990
Leipzig-Plagwitz, June 1998
Advertisement, Leipzig, July 1997
House in Brandenburg, May 1998
Illegally crossing the border, Zittau customs, 16 June 1998
Reko (renovated high-rise flats), Berlin-Marzahn, August 1998
Memorial Deutsche Teilung Marienborn, Marienborn, July 1998