Exhibitions and Special Events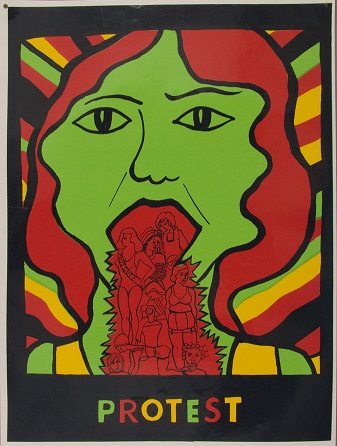 23 November 2021 - 23 November 2022
Exhibition
Forms, Voices, Networks
Feminism and the Media
The exhibition Forms, Voices, Networks explores the intersections between the growth of mass media and women's rights movements in a transnational context during the 20th century. Centred on the histories of feminisms and the media in Britain, Germany and India, it draws attention to little-known or unheard voices and stories and draws connections between activists and the media across time and space.
Developed by the International Standing Working Group on Medialization and Empowerment, curated by Maya Caspari (GHIL) and coordinated by Jane Freeland (GHIL)
Image from See Red Women's Workshop: 'Protest'. 1974 (screenprint)
Online
Forthcoming special events
8 September 2022 (5pm)
Special Event
Anne Gerritsen (Warwick)

Serges, Shagreen and Sea Cucumber: Chinese Merchants and Global Goods in Eighteenth- and Nineteenth-century Canton
Online
7 July 2022 (5.15-6.45pm)
Special Event
Going against the tide? Sceptical views and alternative visions of European integration

Evening panel event
Introduction: Professor Christina von Hodenberg (GHIL)
Chair: Dr James Ellison (QMUL)
Panel: Prof Piers Ludlow (LSE), Dr Andrea Mammone (University of Rome La Sapienza), Dr Eirini Karamouzi (Sheffield)
Venue: GHIL
This evening panel is part of a conference organised by the '(De)Constructing Europe – EU-Scepticism in European Integration History' project (led by the GHI London, the GHI Rome, the GHI Warsaw and the Hamburg Institute for Social Research). During this event, experts will discuss European integration and alternative visions of European integration from multiple perspectives.
This event will take place online via Zoom. In order to attend, please register here.
GHIL
20 January 2022 (5.30pm)
Special Event
Women on the Air Waves: Feminism and the Radio in Britain and Germany

Roundtable discussion to celebrate the launch of the online exhibition Forms-Voices-Networks: Feminism and the Media
How have women used the radio to advocate for women's rights? What role does the radio play in the history of feminism?
Join us for an online panel conversation on women's radio and feminist activism in Germany and Britain during the twentieth century to mark the launch of the German Historical Institute London's online exhibition Forms, Voices, Networks: Feminism and the Media.
From BBC Women's Hour to Haben Sie fünf Minuten Zeit (Do You Have 5 Minutes), radio has been an important vehicle for discussing women's issues and reaching female audiences. Radio has also enabled women journalists, producers and editors to redefine conventions, challenge gender norms and carve a place for women's voices and labour in the media. This panel brings together Kate Lacey (Sussex) and Caroline Mitchell (Sunderland) in a discussion on women's radio making and radio's role in the advancement of gender justice in Germany and Britain in the twentieth century. From both and academic, historical and practical perspective, Lacey and Mitchell will discuss the opportunities and limitations that radio has provided for women and women's rights. They will ask: How has radio, both mainstream and community, provided a unique space for the discussion of rights? How have women used the radio to challenge gender norms? What does studying radio reveal about the trajectory of feminism in Germany and Britain?
Kate Lacey (BA London, PhD Liverpool) is Professor of Media History and Theory in the School of Media, Arts and Humanities at the University of Sussex, and Director of CHASE, the AHRC Doctoral Training Partnership in Southeast England. Her research focuses on radio history, media publics, and listening as civic action. She has published widely, including two monographs, the first of which, Feminine Frequencies: Gender, German Radio and the Public Sphere, 1923 to 1945, explored the constitutive role of gender in the development of broadcasting, and the second, Listening Publics: The Politics and Experience of Listening in the Media Age, which proposed 'listening' as a rich concept with which to analyse the politics and experience of media communications in Europe and America across the long twentieth century. She was a founding member of the Radio Studies Network and sits on the editorial boards of The Radio Journal and The International Journal of Cultural Studies.
Dr. Caroline Mitchell is Associate Professor of Radio and Participation at the University of Sunderland, UK where she teaches on its longstanding MA in Radio, Audio and Podcasting and leads a number of research projects in the area of community media production and participatory research methods. She was co-founder of Fem FM, the first women's radio station in the UK (1992) and co-curated digital archive of the station in 2014. She has published widely about women and radio, participatory archiving and community mapping practices. As a lead member of ´Transnational Radio Encounters´ research project she was part of the team that developed the innovative global online platform radio.garden. She is a member of Women´s Radio in Europe Network and was a member of the board of Sound Women until the organisation closed in 2016.
In order to register for this event, please follow this link to Eventbrite.
Online