GHIL Library – Access and Services
Joining and Visiting the Library
The library is open to anyone with an interest in German history, British-German relations or comparative historiography. There are no membership or joining fees.
New readers should book an appointment (email: library@ghil.ac.uk) for a virtual induction (offered via Zoom, Mondays 12pm and Wednesdays 4pm, or by arrangement) before their first visit, or, if they prefer, visit the Institute for an in-person induction. A filled out registration form, passport photo and recent proof of address must be provided at this point so that a library card can be issued (free of charge). Registration for a library card should be completed at reception after the induction. Please note that induction and registration will normally only take place 9.30am-5pm.

You must not visit the institute if you are experiencing symptoms of Covid-19, or if you have recently tested positive for Covid-19. Readers are encouraged to take a lateral flow test before they visit the library. We recommend but do not require a face covering.
For further information on COVID-19 safety measures, see the Library Regulations below.
Access
The library is close to several Tube stations (Tottenham Court Road, Russell Square, Holborn) and numerous bus routes. It is within easy walking distance of the British Library, the LSE, UCL and the various other colleges and research institutes in Bloomsbury.
Access to the GHIL from the street is via a few steps. A ramp can be provided to enable wheelchair users to enter the building. Please contact us in advance if assistance is required (ghil@ghil.ac.uk). A lift connects all floors of the building and there is a wheelchair-accessible toilet. An induction loop is provided in the reception area.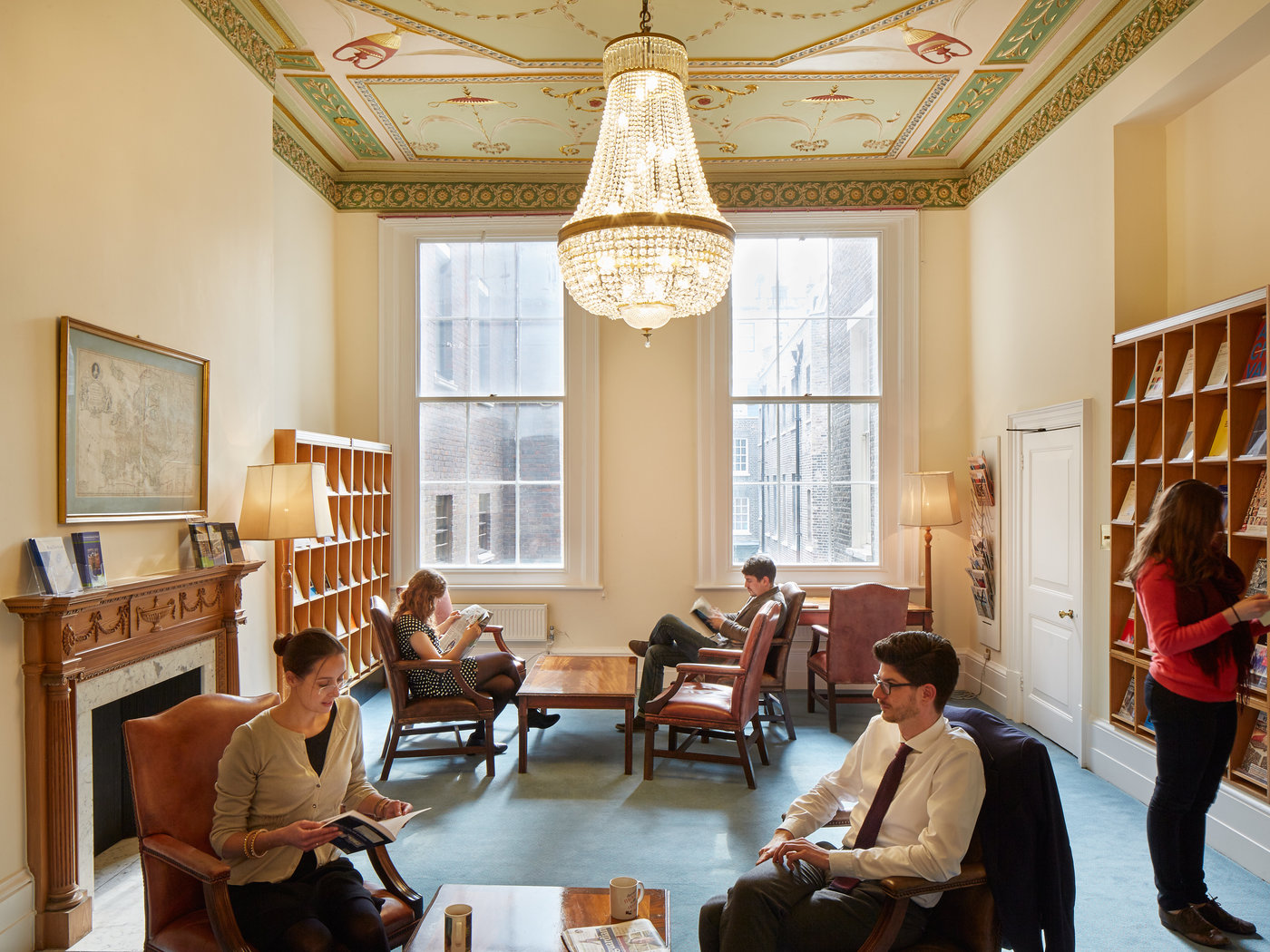 Services
The library offers quiet and spacious work areas in a beautiful historical building, with individual desks or group work areas available as required. Please contact library staff in advance if you are planning group work as desk space cannot be guaranteed (library@ghil.ac.uk).
Qualified library staff are available to answer enquiries and offer assistance with research. They can be found in the Library Office on the ground floor.
The Common Room on the first floor offers a space for relaxation and interaction with other readers. Eating and drinking are permitted in this room, and readers can also browse current issues of periodicals and selected recent acquisitions of books. Please be aware that use of the Common Room is currently restricted to three people at any one time, and that the provision of tea/coffee and daily newspapers has been suspended until further notice.
Internet access is provided via the computer terminals in the reading rooms (according to the library's Internet Use Guidelines), and WiFi is free of charge to registered users. Please enquire at reception to receive a password.
A cloakroom with lockers for readers' coats and bags can be found on the ground floor. Keys must be handed in at Reception if readers wish to leave the building during their visit, and all lockers must be emptied overnight.
Reprographics:
There are facilities for scanning to personal USB or mobile devices. A reader-printer and scanner is available for microfilm and microfiche resources. Digital cameras can be used to photograph books provided the flash is turned off.
Print-out charges:
10p per sheet (A4, b/w), to be paid at the reception desk
Readers are responsible for complying with UK copyright law.