Events
The GHIL organises and hosts over 50 events per year on German, British, and global history for academic researchers, students, and the general public. Many events are organised in co-operation with German and international partners. The majority take place at the GHIL, but also at other academic organizations in the UK, Germany and India. Participants come from all over the world. Some events require advance registration. Please see individual listings for details.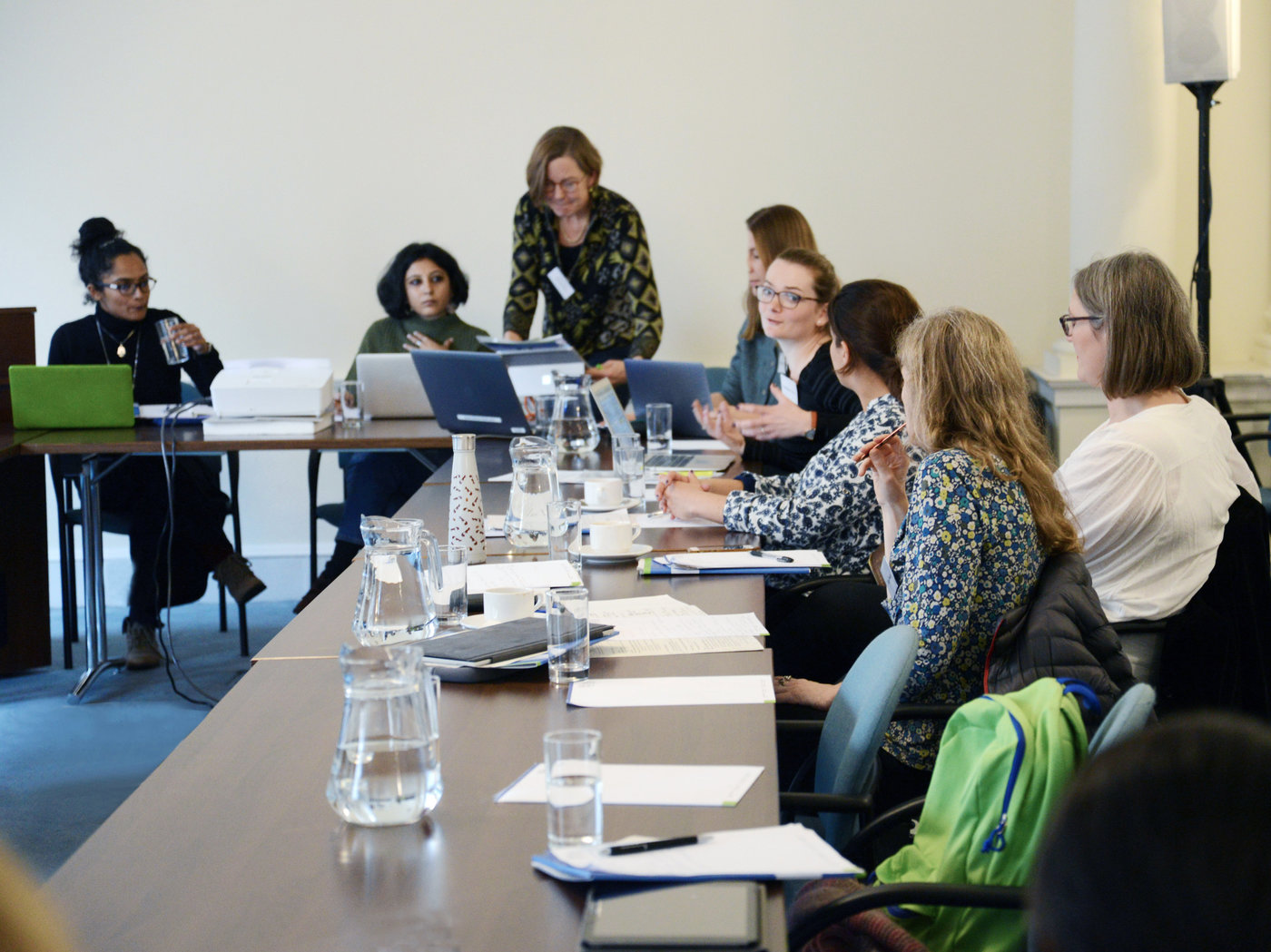 27 October (5.30pm)
GHIL Lecture
Stefan Berger (Bochum)

Comparing De-Industrialization: Initial Thoughts on a Global Phenomenon
Online Event
27 October (3.30pm)
GHIL Colloquium
Oscar Broughton (Berlin)

Guilds at Home and Abroad. Guild Socialism Reconsidered from a Transimperial Knowledge Perspective
Online Event
---
30 October
Workshop
Law and Consent in Medieval Britain

Workshop organized by the German Historical Institute London in co-operation with the History of Parliament Trust
Online Event
3 November (5.30pm)
GHIL Lecture
Giorgio Riello (Florence)

A 'Material Turn' in Global History? The World of Early Modern Things
Online Event
3 November (3.30pm)
GHIL Colloquium
Isabel Eiser (Hamburg)

Die "Benin-Bronzen". Die Globalisierung des kolonialen Kunstraubs - Becoming an Emblem. Von kolonialer Unterdrückung zu dekolonialer Gegenbewegung. Eine diskursanalytische Untersuchung der "Benin-Bronzen"
Online Event
---
Conferences and Workshops
---
Exhibitions and Special Events
There are currently no special events
---
Previous Events
10-11 January
Postgraduate Students Conference
Postgraduate Students Conference 2019

22 January (3pm)
GHIL Colloquium
Nicole Wiederroth (Hamburg/London)

Heroism, Expertise and Ambitions of Control in Western Tanganyika
23 January (5.30pm)
Public Lecture
Elissa Mailänder (Paris)

Self-Confident, Autonomous, and Liberated? Politicized Gender Relations in Nazi Film, 1939–1945
GHIL in co-operation with the Faculty of History, University of Oxford.
The Nazis drew upon a wide range of media first to mobilize voters, then to consolidate power, and, ultimately, to motivate German citizens in waging war. The flourishing German film industry lured more than a million spectators into cinemas each year during the war. Blockbusters such as Wunschkonzert, Stukas, and Die grosse Liebe explicitly targeted a young audience who, in their entertainment, craved romance, adventure, and escapism from the realities of everyday life. By juxtaposing these action films and romantic comedies with contemporary events, the movies showcased a 'fun' and dynamic Nazi society while promoting highly politicized images of 'modern' gender relations.
Elissa Mailänder is an Associate Professor of Contemporary History at Sciences Po in Paris. Her research interests include the history of violence, gender, and sexuality. Mailänder's previous work has focused on perpetrator history and the everyday in Nazi concentration and extermination camps. Her new project examines heterosexual relationships in Nazi Germany and highlights the importance of mass participation and practices of everyday conformity with mass dictatorship.
24 January (6.30pm)
European Leo Baeck Lecture Series London [2018-19]
Cilly Kugelmann (Jewish Museum Berlin)

Jewish Museums between Self-Assertion and Self-Defence
In the 19th century Jews gradually began to free themselves from their ambivalence towards the fine arts. Rabbis repeatedly placed the depiction of people in pictures and sculptures close to idolatry and viewed it with reservations. The discovery of a visual culture in Judaism by the Haskala, the Jewish Enlightenment, fulfilled a double function: it was intended to strengthen a new Jewish selfconfidence internally and at the same time to ward off the antisemitic prejudice that Jews were incapable of artistic expression. This process will be illustrated by the example of the emergence and development of Jewish museums in Europe.
Cilly Kugelmann was the Program Director and Vice Director of the Jewish Museum Berlin from September 2002 until March 2017 and she is currently chief curator on the museum's new permanent exhibition. She has worked for the museum since May 2000, first as head of the Education department, and later also of the Science and Scholarship and Exhibitions departments. Previously, Kugelmann directed the education program, ran public relations, and curated historical exhibitions at the Jewish Museum in Frankfurt am Main.
29 January (3pm)
GHIL Colloquium
Bastian Linneweh (Göttingen)

Die Anatomie eines globalen Marktes im Wandel. Kautschuk 1900-1960
5 February (3pm)
GHIL Colloquium
Soheb Ur Rahman Niazi (Berlin)

Social Stratification at a Muslim Qasbah: Genealogy and Narrating the Past at Amroha (1878-1940)
GHIL Colloquium
Debojit Kumar Thakur (Trier)

A History of Economic Thought of Hindu Nationalism: 1923-1993
12 February
Seminar
Sabine von Heusinger (Cologne)

Fire, Siege, and the Jews: Real and Imagined Threats to Water Supply in the Late Medieval City
Focusing on water at times of war, fire, and plague, this talk will look at a premodern society struggling with life-threating dangers and trying to find remedies. Three case studies from the 'Regnum Teutonicum' explore war (the Siege of Neuss), precautions taken against fire (Strasbourg), and accusations of well-poisoning made against Jews in the Late Middle Ages. They demonstrate that the life-sustaining power of water was crucial for the community. Every threat to water supply – real or imagined – had serious consequences.
Sabine von Heusinger is Professor of Late Medieval History at the University of Cologne. Her current research on water as a precondition for human life allows her to investigate many aspects of social, cultural, and intellectual history in the Late Middle Ages.
14 February (6.30pm)
European Leo Baeck Lecture Series London [2018-19]
Richard I. Cohen (Hebrew University of Jerusalem)

Moses Mendelssohn – The German-Jewish Icon of Modernity (1780s–2019)
Moses Mendelssohn has engaged artists of Jewish and non-Jewish origin from his lifetime until today. The lecture will show how, over this long period, Mendelssohn has been turned into the icon of German-Jewish modernity by being represented in a myriad of ways and techniques.
Richard I. Cohen is the academic director of the Israel Center of Research Excellence (ICore) for the Study of Cultures of Place in the Modern Jewish World. Formerly the Paulette and Claude Kelman Chair in French Jewry Studies at the Hebrew University of Jerusalem, he has published widely on the history of Jews in western and central Europe and on the inter-relationship between art and society in the modern period. Among his publications: The Burden of Conscience: French-Jewish Leadership during the Holocaust; Jewish Icons: Art and Society in Modern Europe; co-curator and co-editor of From Court Jews to the Rothschilds: Art, Patronage, and Power, 1600–1800, and Le Juif Errant: Un témoin de temps. He recently edited and introduced Place in Modern Jewish Culture and Society [vol. 30 of Studies in Contemporary Jewry, Oxford University Press, New York].
19 February (3pm)
GHIL Colloquium
Hendrik Baumbach (Marburg)

Die Legitimation von Herrscherhandeln in der politischen Sprache im frühen 12. Jahrhundert am Beispiel der Bischöfe von Augsburg und Salisbury
26 February (3pm)
GHIL Colloquium
Thomas Dorfner (Aachen)

Kommerz für den Heiland. Der Handel der Herrnhuter Brüdergemeine in der Atlantischen Welt (1758-1818)
26 February
Seminar
Kim Siebenhüner (Jena)

Blumer's Journey: Swiss Cotton and the Great Divergence Debate
The history of cotton has been the subject of much recent research, but blind spots remain. International debates have barely acknowledged the role of early modern Switzerland as one of the most important European areas producing, marketing, and selling cotton cloth in the 18th century. This talk shows how Swiss producers and merchants were integrated into global cotton networks and reflects on how cultural history approaches may be reconciled with the debate, dominated by macro-economics, about the Great Divergence.
Kim Siebenhüner is Professor of Early Modern History at the Friedrich Schiller University of Jena. She has worked on early modern religious history, material culture, and cross-cultural exchange. She is the author of Die Spur der Juwelen: Materielle Kultur und transkontinentale Verbindungen zwischen Indien und Europa (2018) and co-editor of Cotton in Context: Manufacturing, Marketing and Consuming Textiles in the German-Speaking WorldWorld (1500–1900) (2019).
28 February (5.30pm)
Public Lecture
Stefanie Michels (Hamburg)

Connected Families: West Africa and Southern Germany, 1891–1896
GHIL in co-operation with the Modern German History Seminar, Institute of Historical Research, University of London
Taking the example of Tube Meetom and Rudolf Duala Manga Bell, two boys from elite families of Duala, Cameroon, living with a petty bourgeois German family, this lecture discusses child circulation practices of the Atlantic contact zone in relation to notions of 'family' and home-making. On the level of colonial control, the lecture highlights the ambivalent practices of state control through the male custodian and the agency of the African father by means of financial and social interaction. On the affective level, an array of relations between extended families points to bonds not governed by the logic of 'race' and coloniality. Although in the end the German colonial authorities forcefully limited the ambitions of the two boys by exiling one and executing the other, their life stories advanced African independence movements in the 1930s.
Stefanie Michels focuses on German colonial and African history. She teaches at the University of Hamburg and has recently co-edited Global Photographies (2018) and Koloniale Verbindungen – Transkulturelle Erinnerungstopographien: Rheinland und Grasland, Kamerun (forthcoming).
5 March (3pm)
GHIL Colloquium
Daniela Egger (Munich)

Long-Distance Ship Passages, Emotions, and Mental Health
12 March (3pm)
GHIL Colloquium
Marina Schütz (Munich)

Kooperative Konkurrenz in Big Biology: Die Anfänge des Human Genome Project im Labor
12 March
Seminar
Hugo Drochon (Nottingham) and Philipp Felsch (Berlin)

Born Posthumously: Two Lectures on Nietzsche's Legacy
Hugo Drochon will speak first on 'Nietzsche's Great Politics: From Bismarck to Hitler', discussing how Nietzsche's productive life maps perfectly onto Bismarck's reign, which was characterized by the 'great politics' of German unification and the power politics of the European balance of power. Yet 'great politics' was also the way in which Heidegger, Jaspers, and Baeumler of the 'Hitler prophecy' tried to make sense of Nietzsche's politics in the inter-war period, and Drochon's paper will reflect on how these two moments can help us make sense of our own politics. This will be followed by Philipp Felsch speaking on the 'The Italian Job: Nietzsche's Return in the Cold War' about the return of Nietzsche after the Second World War that was due equally to the new French reception (Deleuze, Klossowski, Foucault, and others) and the critical edition of Nietzsche's works by the Italian antifascists Giorgio Colli and Mazzino Montinari. Felsch will dedicate his talk to the latter's political philology.
Hugo Drochon is a historian of late 19th and 20th-century political thought, currently Assistant Professor in Political Theory at the University of Nottingham. He is the author of Nietzsche's Great Politics (2016).
Philipp Felsch is Professor of Cultural History at the Humboldt University Berlin. His recent publications include Der lange Sommer der Theorie (2015) and BRD Noir (2016).
14-16 March
Conference
An Era of Value Change: The Seventies in Europe

Conveners: Fiammetta Balestracci (Queen Mary University of London), Christina von Hodenberg (German Historical Institute London), and Martin Baumeister (German Historical Institute Rome).
Venue: German Historical Institute London
19 March (5.30pm)
Seminar
Prashant Kidambi (Leicester)

'Greengrocer, Tailor and Champion Wrestler': The Transnational Career and Times of Buttan Singh, c.1900–1914
This paper examines the extraordinary career of Buttan Singh, a Sikh wrestler who became the national wrestling champion of Australia in the early 1900s. Later in that decade, he travelled to Britain and Australia. The paper considers Buttan's transnational peregrinations within three discrete historical contexts. First, it places his story into the broader streams of Sikh migration within the British Empire. Second, it shows how Buttan's story became entangled in the making of a frontier society in Western Australia. Finally, the paper relates Buttan's career to that of other peripatetic sportsmen who breached the 'colour line' before the First World War.
Prashant Kidambi is Associate Professor of Colonial Urban History at the University of Leicester. He is the author of The Making of an Indian Metropolis: Colonial Governance and Public Culture in Bombay, 1890–1920 (2007; 2016), and is currently completing Cricket Country, a book on the making of the first Indian cricket team.
4 April (6.30pm)
European Leo Baeck Lecture Series London [2018-19]
Nathan Abrams (Bangor University)

Treyf Jews? Jewish Gangsters in McMafia and Peaky Blinders
In this illustrated lecture, Professor Nathan Abrams will explore recent British representations of Jews on television focussing on the role of the Jewish gangster in McMafia and Peaky Blinders in particular.
Nathan Abrams is Professor in Film at Bangor University in Wales where he directs the Film Studies programme and the Centre for Film, Television, and Screen Studies. He is the author of Stanley Kubrick: New York Jewish Intellectual (2018) and Eyes Wide Shut: Stanley Kubrick and the Making of His Final Film (2019), and co-founding editor of Jewish Film and New Media: An International Journal.
11-13 April
Conference
Security and Humanity in the First World War: The Treatment of Civilian 'Enemy Aliens'

Venue: German Historical Institute London
16 April (3pm)
GHIL Colloquium
Stefanie Freyer (Osnabrück)

Hidden leadership? James I's Diplomats at the Imperial Diet
2-3 May
Workshop
GINT TRANSLAB: German-English Translation Workshop and Panel

Organizers: Frankfurt Book Fair, Geisteswissenschaften International Frankfurt, German Historical Institute London, Goethe-Institut London, New Books in German
Moderator: Dr Ruth Martin
Venue: German Historical Institute London
7 May (5.30pm)
Seminar Series
Slavery's Past and Present: Challenges to Academic Research and Museum Work in Germany and Britain

How can museums and historians reappraise traumatic and partly hidden histories such as slavery, and offer opportunities to enable dialogue about events that society finds uncomfortable? Historian Rebekka von Mallinckrodt, University of Bremen, will first address the little explored topic of trafficked people and related legal concepts in the Holy Roman Empire, a state not usually associated with slaves. Although on the margins of the transatlantic slave trade, eighteenth-century Germany was deeply involved in it. Richard Benjamin, Head of the International Slavery Museum, Liverpool, will then argue that museums of slavery should not only become platforms for dialogue on decolonizing the past and collection practices, but also develop new ways of power-sharing with publics and communities. The talks will be followed by a commentary by historian Catherine Hall, UCL. Chaired by Felix Brahm, GHIL.
This event is available as a MP3 download (59 min, 41 MB) Report: Slavery's Past and Present: Challenges to Academic Research and Museum Work in Germany and Britain. By Dana Hollmann
9 May (5.15pm for 5.45pm)
Public Lecture
Martin Mulsow (Erfurt/Gotha)

Die Illuminaten, Schiller und die Anfänge des Kantianismus
English Goethe Society lecture
In the years after 1784, the centre of the Order of Illuminati, which had been founded by Adam Weishaupt in Bavaria, moved to central Germany, where it became active in Gotha, Weimar, and somewhat later in Jena – no longer working against reigning princes, but, at least in Gotha, together with them. The lecture will focus on the small Illuminati group in Jena, which met from 1785 to 1788. It consisted mainly of law students, whose meetings we can reconstruct on the basis of unpublished protocols and lecture scripts. The remarkable thing about this group is that it was closely bound up with the early reception of the work of Immanuel Kant and paved the way for its broad impact on the thought of Friedrich Schiller and German Idealism.
14 May (3pm)
GHIL Colloquium
Claudia Berger (Essen)

Die 'Zwischenzeit' der Kapkolonie 1902-1910: Politische Imaginationen, Taktiken und Strategien im Transformationszeitraum
14 May (5.30pm)
Special Event
Exhibition Black Germany - Opening Event

Venue: German Historical Institute London
With talks by historian Robbie Aitken (Sheffield), on "Making the Visible the Invisible – Black Germany in the Age of Empire", and poet, dramaturge and editor Philipp Khabo Koepsell (Berlin), on "Afro-Deutschland – The Making of an Activist Movement".
17 May
Workshop
Workshop on Medieval Germany

Organized by the German Historical Institute London in co-operation with the German Historical Institute Washington and the German History Society.
Conveners: Len Scales (Durham University) and Cornelia Linde (GHIL)
Venue: German Historical Institute London
20-22 May
Conference
In Global Transit: Forced Migration of Jews and Other Refugees (1940s–1960s)

Second Conference in the Series 'In Global Transit' organized by the German Historical Institutes in Washington and London in cooperation with the Max Weber Stiftung Branch Offices in Delhi and Beijing, and The Magnes Collection of Jewish Art and Life, University of California, Berkeley
Conveners: Wolf Gruner (USC Shoah Foundation Center for Advanced Genocide Research, Los Angeles), Simone Lässig (German Historical Institute Washington), Francesco Spagnolo (The Magnes Collection of Jewish Art and Life, Berkeley), Swen Steinberg (Queen's University, Kingston)
Venue: The Magnes Collection, 2121 Allston Way, Berkeley, USA
The Magnes Collection, Berkeley
21 May (5.30pm)
Public Lecture
Thomas Mergel (Berlin)

Modern Revolutions: The History of a Mimesis
The idea of the modern revolution rests on the idea that all individual revolutions are part of one great and all-embracing movement and this is why, in the 19th century, 'the' revolution became singular. Marx's philosophy of history is pivotal in this respect. The lecture conceptualizes the idea of a 'script' of the revolution, and discusses how the history of the modern revolution can be grasped as the history of a tradition and, in practical terms, as the history of a constant mimesis. It also pursues the problem of how, in the course of the 20th century, this script began to fade, as revolutions resembled the Marxian concept less and less, so that today we again speak of a plurality of revolutions.
Thomas Mergel is Professor of 20th-Century European History at the Humboldt University of Berlin. He works on the cultural history of politics since the 18th century, focusing in particular on the history of political communication. His publications include Parlamentarische Kommunikation in der Weimarer Republik: Politische Kommunikation, symbolische Politik und Öffentlichkeit im Reichstag (3rd ed. 2012)
30-31 May
Workshop
Advertising and Marketing in the Early Modern World (1400–1800)

Workshop jointly organized by the German Historical Institute London, the Institute of Advanced Studies at University College London, and the University of Tübingen
Conveners: Christina Brauner (Tübingen) in cooperation with Michael Schaich (GHIL)
Venue: German Historical Institute London
4 June (3pm)
GHIL Colloquium
Liza Weber (Brighton)

Documenta and its Double: Germany's Myth of Modernism in Memory and Provenance, From "Degenerate" to documenta (1937-1955)
6 June (5.30pm)
Public Lecture
Maren Möhring (Leipzig)

Travelling around the World: Mass Entertainment in the 'Haus Vaterland' in Berlin
GHIL in co-operation with the Modern German History Seminar, Institute of Historical Research, University of London
Annual Lecture of the German History Society
In 1928, a consortium headed by the internationally renowned wine merchant Kempinksi opened a huge entertainment complex at the Potsdamer Platz in Berlin. It consisted not only of a cinema and ballroom, but also of several themed restaurants – among them a Spanish bodega, a Japanese tea room, a Wild West bar, and a Viennese wine tavern. 'Haus Vaterland', despite its patriotic name, promised to assemble 'the world under one roof' and in this sense borrowed from the World's Fair imaginaries. Investigating how 'the world' was arranged and performed in one of the most prominent places of public entertainment in Weimar Germany can help us better to understand how knowledge and imaginations about 'the world' were produced, circulated, and experienced, and how they shaped modern mass entertainment.
Maren Möhring is Professor of Comparative Cultural and Social History at Leipzig University. She is the author of Fremdes Essen: Die Geschichte der ausländischen Gastronomie in der Bundesrepublik Deutschland (2012) and is currently working on a publication about 'Haus Vaterland' and the transnational history of mass entertainment.
11 June (5.30pm)
Seminar Series
Multidirectional Memory?: National Holocaust Memorials and (Post-)Colonial Legacies

Venue and Collaborator: Institute of Advanced Studies, University College London, Common Ground (G11), Wilkins Building (South Wing), Gower Street, London WC1E 6BT
How do colonial history, the Second World War, and the Holocaust intersect? As Britain embarks on the creation of a National Holocaust Memorial, calls have been made for a memorial to and a museum of Britain's historical involvement in slavery, its colonial past, and their legacies. Meanwhile, scholarship such as Michael Rothberg's Multidirectional Memory has argued that Holocaust remembrance also has the potential to open up routes for commemorating other contested national pasts. This panel will enable a dialogue between scholars of the Holocaust, colonialism, and the British Empire to reflect on national and transnational legacies.
With Avril Alba, Sydney, Yasmin Khan, Oxford, and Tom Lawson, Northumbria.
Chaired by Tamar Garb, IAS London.
An audio recording of this event is available here (this link will take you to the UCL website).
Institute of Advanced Studies, UCL, London
18 June (3pm)
GHIL Colloquium
Riley Linebaugh (Gießen)

Stolen Archives: The Struggle Between Kenya and Great Britain over the Records of Empire
18 June (5.30pm)
Seminar Series
Who owns Public History?: Two Talks on History Textbooks in Conflicted Societies

Who owns public history and on what grounds? How does the historian relate to public debates? Across spatial and temporal conflict contexts, debates about the content and role of history textbooks are sensitive, highly political, and often notable for their interminability. Developing a theoretical approach, political scientist Eleni Christodoulou, Georg Eckert Institute, Brunswick, will embrace 'educational anxieties' by offering a framework for analysing securitization dynamics that successfully resist and prevent textbook revisions as part of peace-building processes in Cyprus and Lebanon. Neeladri Bhattacharya, former Chief Adviser of the National Council for Education Research and Training in India, will then explore how contested claims of caste and class, region and nation, are played out on the site of history textbooks in India.
Chaired by Nandini Manjrekar, Tata Institute of Social Sciences, Mumbai.
This event is available as a MP3 download (104 min, 69 MB)
Report (in German only): "History Battles" und "Weapons of mass instruction": Geschichtslehrbücher in Konfliktgesellschaften. Tagungsbericht zum Seminar "Who owns Public History" des DHI London. Von Simone Hacke
25 June (5.30pm)
Seminar Series
From Collected to Contested: The Future of Museums after the Repatriation Debate

European museums have recently come under increasing pressure to repatriate objects from colonial times. But where do we go from here? Does repatriation naturally entail 'decolonizing the museum', or might it even prevent museums from doing just that? This panel will discuss what decolonization in the museum might actually mean. How do recent debates fit into the bigger picture of engaging with uncomfortable collecting histories? How could embracing these histories enable marginal and multiple voices to have a say?
With Subhadra Das, Curator, UCL, Clémentine Deliss, Curator and Author, Tristram Hunt, Director, V&A, and Alice Procter, Tour Guide and Art Historian.
Chaired by Mirjam Brusius, GHIL.
This event is available as a MP3 download (106 min, 98 MB)
26 June (5pm)
India Research Programme Event
Panel on Marginality and the Urban: Linkages and Intersections

Participants: Isabel Ramos Lobato (ILS Research Institute for Regional and Urban Development Dortmund); Nandini Manjrekar (Tata Institute of Social Science Mumbai); Geetha B. Nambissan (JNU Delhi); Shivali Tukdeo (National Institute of Advanced Studies Bengaluru); Georgie Wemyss (University of East London)
3 July (7pm)
Seminar Series
Closing Event 'Zingster Strasse 25'

Venue and Collaborator: Goethe Institute London, Exhibition Road, London SW7 2PH
To address the urgent need for living space in the 1950s the GDR government introduced new housing projects based on prefabricated concrete slabs, the so-called Plattenbau. Erected on the outskirts of East Berlin, Zingster Straße 25 in Neu-Hohenschönhausen was one of them and it was completed in 1987. Three decades later the artist Sonya Schönberger visits some of the tenants. Who is still around, and who has moved in since? Her interviews, read by performers Johanna Malchow and Ingo Tomi, tell not just personal stories of daily life in the GDR, but also bear witness to the regime change of 1989, and the often challenging and still under-debated aftermath of social change in a unified Germany.
The performance is introduced by Christina von Hodenberg, Director, GHIL.
Goethe Institute London
5 July
Special Event
Germany in Global Context, 1871-1945. Research Trends and Classroom Practice

**PLEASE NOTE THAT THIS EVENT HAS BEEN CANCELLED**
The German Historical Institute, London, in association with the German History Society, is holding a free one-day event for A-level history teachers on Friday, 5 July 2019, from 11:00 am to 3:30 pm. This will take place at the German Historical Institute, 17 Bloomsbury Square, in Central London. The programme (see below) will include talks by academics on various themes in German history, and a tour around the institute's library and other facilities.
11-12 July
Conference
From the Ruins of Preservation: A Symposium on Rethinking Heritage Through Counter-Archives

Co-organized by Rodney Harrison (AHRC Heritage Priority Area Leadership Fellow/Professor of Heritage Studies at the UCL Institute of Archaeology) and Mirjam Brusius (Research Fellow in Colonial and Global History, German Historical Institute of London).
Venue: German Historical Institute London
23 July (2.30pm)
GHIL Colloquium
Sebastian Schlund (Kiel)

Staatsbürgerschaft als intersektionales Konstrukt in Siedlungskolonien des langen 19. Jahrhunderts
GHIL Colloquium
Simeon Marty (Berlin)

"Thinking Black in the Blitz": Pan Afrikanische Bewegungen während des «London Moment», 1939-1945
3-6 September
Summer School
16th Summer School in British History: The History of the British Empire. New Perspectives

Conveners/Organisers: Historisches Seminar der Ludwig-Maxiliams-Universität München; German Historical Institute London
Venue: German Historical Institute London
10 September (2.30pm)
GHIL Colloquium
Nina Szidat (Essen)

Doing Europe instead of Thinking Europe? Town Twinning between Birmingham, Frankfurt, Lyon and Milan
GHIL Colloquium
Victor Jaeschke (Potsdam)

Europapolitische Zukunftsvorstellungen in Großbritannien, Frankreich und der Bundesrepublik Deutschland 1984-1992
13 September
Workshop
Arms Control across the Empires

International academic workshop, co-organized by the German Historical Institute London (GHIL) and the Jena Center 20th Century History
Conveners: Felix Brahm (GHIL), Daniel Stahl (University of Jena)
Venue: German Historical Institute London
17 September (3.30pm)
GHIL Colloquium
Juliane Clegg (Potsdam)

Großbritannien und die europäische Währungspolitik in den 1980er Jahren
24 September (3.30pm)
GHIL Colloquium
Daniel Trabalski (Bochum)

Die Regulierung der 'Staublungen-Krankheit' nach 1945. Gesundheitliche Prävention und Entschädigung im Spannungsfeld umkämpften Wissens
1 October (3.30pm)
GHIL Colloquium
Karoline Künzel (Kiel)

Sinn- und Bewältigungskonzepte im Umgang mit Vergänglichkeit in lateinischen Jenseitsreiseberichten des 12. Jahrhunderts
8 October (3.30pm)
GHIL Colloquium
Luise Elsäßer (Florenz)

Disappearing Markets: Britain's Transition from Equine to Motorised Power, c. 1870-1950s
Conference
Medieval History Seminar

10-12 October
Organized by the German Historical Institute London and the German Historical Institute Washington
Conveners: Paul Freedman (Yale), Bernhard Jussen (Goethe Universität Frankfurt am Main), Simon MacLean (St Andrews), Ruth Mazo Karras (Trinity College Dublin), Len Scales (Durham University), and Dorothea Weltecke (Goethe Universität Frankfurt am Main).
Venue: German Historical Institute London
10 October (6pm)
Public Lecture
Simon MacLean (St Andrews)

The Carolingian Origins of the Medieval Castle
The castle is perhaps the most recognisable feature of the western European landscape in the Middle Ages, dominating medieval social and political order from the 11th century onwards. The origins of the castle are generally assigned to the 9h and 10th centuries, beginning with defensive fortifications established against the Vikings. In this paper, I argue that there are problems with this origin story by re-evaluating some of the key sources and assumptions on which it rests. This argument has broader implications for how we think about the significance of fortifications in the last years of the Carolingian Empire and the evolution of the castle between the 9th and 12th centuries.
15 October (2.30pm)
GHIL Colloquium
Kristoffer Kerl (Köln)

Politiken des Rausches. Psychedelische Drogen, Sexualität und Musik in westlichen Alternativkulturen in den USA, Großbritannien und der BRD, 1960er bis 1980er Jahre
15 October
Seminar
F. Benjamin Schenk (Basle); comment by Andy Willimott (London)

'Hubs of Global Migration': Organizing Transcontinental Flows of People in the Late 19th and Early 20th Centuries
Scholars have long treated the history of the transatlantic migration to the Americas and the trans-Ural movement of peasant colonists within the Russian Empire at the end of the 19th century separately. In fact, the two processes were interconnected and had a number of striking similarities. One common feature was modern reception and transit camps for immigrants and migrants, which emerged almost simultaneously at various locations along global migration routes. These 'hubs of global migration' became important laboratories of migration management in the modern age.
F. Benjamin Schenk is Professor of Russian and East European History at the University of Basel and currently a Visiting Fellow at the Department of International History, LSE. His most recent monograph is Russlands Fahrt in die Moderne: Mobilität und sozialer Raum im Eisenbahnzeitalter (Stuttgart, 2014; Russian translation, 2016).
Commentator Andy Willimott is Lecturer in Modern Russian History at the QMUL School of History.
22 October (3.30pm)
GHIL Colloquium
Friederike Pfister (Bochum)

'Foreign Knowledge' - The Latin-Christian Perception of Astrology (12th-15th c.)
29 October
Seminar
Sarah Stockwell (London)

'Losing an empire, winning friends'? Sandhurst, Military Assistance, and British Decolonization
In the 1950s and 1960s British institutions delivered a variety of forms of technical and military assistance to emergent Commonwealth states. As a result, the 'end' of empire saw large numbers of Britons still working in the public services of newly independent countries and a great influx of students from former colonies to train and study in Britain, including at the Royal Military Academy Sandhurst, where British authorities struggled to cope with the high demand for places. This lecture explores what the history of Commonwealth and foreign cadets at post-war Sandhurst tells us about Britain's management and experience of decolonization.
Sarah Stockwell is Professor of Imperial and Commonwealth History at King's College London. Her research focuses on British decolonization. Her most recent book, The British End of the British Empire (2018), explores the domestic impact of decolonization principally through analysis of the history of British institutions that had acquired roles within Britain's imperial system.
5 November (2.30pm)
GHIL Colloquium
Stephen Foose (Marburg)

Travelling Passports: The Imperial and National in movement between England and Jamaica, 1948-1975
5 November
Seminar
Jochen Johrendt (Wuppertal)

Prester John and his Letter: Between Intellectual Joke and Contemporary Criticism
In his History of the Two Cities (written about 1157), Otto of Freising reports on a 'Prester John', allegedly a descendant of the three wise men, who ruled in India, and defeated the armies of Muslim rulers. A few years later, the priest king John supposedly addressed a letter to the Byzantine emperor describing his own kingdom as an ideal: a realm of abundance, health, wondrous people, truth, and faith. But why did contemporaries invent this letter, which some crusaders, in particular, believed to be genuine?
Jochen Johrendt is Professor of Medieval History at the University of Wuppertal. He works on the history of the papacy and on Italy, in particular, Rome. His most recent publication is Der Investiturstreit (2018) and he is currently working on a monograph on the medieval papacy.
8 November
Annual Lecture
Professor Ulrike Freitag (FU Berlin)

Cosmopolitanism in a Global Perspective
12 November (3.30pm)
GHIL Colloquium
Suzanne Foxley (Oldenburg)

SurPRIZEing Events - Prize law as an American means of judicial independence from Britain? c.1780-1815
13 November (5.30pm)
Public Lecture
Ulrike Jureit (Hamburg)

Chronicle of an Announced Death: Affiliation, Violence, and the Appropriation of Urban Space in Provincial Germany, 1934
GHIL in co-operation with the Faculty of History, University of Oxford
On 25 March 1934 the Jewish population of the small town of Gunzenhausen in central Franconia experienced one of the first pogroms, in which two Jews lost their lives. The lecture reconstructs the spatial appropriation of this urban space and analyses the interdependence of space, violence, and collective belonging. In Gunzenhausen the spatial appropriation was extremely violent. The pogrom proved to be a revolutionary moment of commitment to a way of life that, although it had been following a racial concept of social order for some time, still had to reach agreement on binding forms of social exclusion and racial community-building.
Since 2000 the historian Ulrike Jureit has been a Research Fellow at the Hamburg Foundation for the Advancement of Research and Culture, associated with the Hamburg Institute for Social Research.
19 November
Seminar
Mark Knights (Warwick)

Corruption and the Invention of Public Office in Britain and its Empire, 1600–1850
The talk will explore several case studies that allow us to chart shifts in attitudes to office-holding, from the idea that an office was a piece of personal property or duty owed to a monarch towards office as a public, disinterested, and accountable responsibility. The examples of Samuel Pepys, Lord Chancellor Macclesfield, Charles Bembridge, and Sir Edward Colebrooke will be used to explore debates over the blurred boundary between gifts and bribes, the sale of office, breach of trust, what constituted a public official, and over how far a universal set of standards should apply across Britain's empire.
Mark Knights is Professor of History at the University of Warwick and his principal research interest is early modern British political culture. His most recent work is The Devil in Disguise (2011, paperback 2015), which one kind Amazon reviewer describes as an 'interesting and unusual history book that is so gripping that at times it reads like a murder mystery novel'.
21-23 November
Conference
Feminism in the Media / Feminism and the Media in the 20th Century

First Meeting of the International Standing Working Group on Medialization and Empowerment
Convenors: Christina von Hodenberg (GHI London) and Jane Freeland (GHI London)
Venue: German Historical Institute London
22 November (4pm)
India Research Programme Event
Ute Frevert (Max Planck Institute for Human Development)

The Politics of Humiliation: Historical Trajectories
Max Weber Lecture of the MWS India Branch Office
Venue: Auditorium of Jadunath Museum and Resource Centre, 10 Lake Terrace, Kolkata
Jadunath Museum and Resource Centre, Kolkata
25 November (6.30pm)
India Research Programme Event
Ute Frevert (Max Planck Institute for Human Development)

The Politics of Humiliation: Historical Trajectories
Max Weber Lecture of the MWS India Branch Office
Venue: Goethe Institut, Max Mueller Bhavan Auditorium, New Delhi
Goethe Institut, New Delhi
26 November (3.30pm)
GHIL Colloquium
Andrew Wells (Leipzig)

Free Spaces? Liberty and the City in the British Atlantic World, 1660-1760
3 December (3.30pm)
GHIL Colloquium
Camille Buat (Göttingen)

A Floating Population? Labour Migration, Regional States and the Making of Citizenship in Post-Colonial India
5 December (6.30pm)
European Leo Baeck Lecture Series London
Henry Bial (University of Kansas)

Jewish on Demand: Representation and Difference in the Streaming Era
Classic Jewish film and television, from The Jazz Singer to Seinfeld, was shaped by the economic need to reach the broadest possible audience, leading to creative strategies that minimized or downplayed the difference between Jews and the rest of society. As Netflix and other streaming services have made more specialized entertainment commercially viable, new ways of acting Jewish on screen have emerged that highlight the quirkier and more contested aspects of Jewish identity.
Henry Bial is Professor and Chair of the Department of Theatre and Dance at the University of Kansas, where he has also served as Director of Jewish Studies, Director of the School of the Arts, and Chair of the Department of American Studies. He is the author of Acting Jewish: Negotiating Ethnicity on the American Stage and Screen (2005) and Playing God: The Bible on the Broadway Stage (2015).
9-13 December
Workshop
100 Histories of 100 Worlds in One Object

Concept and Convenor: Mirjam Brusius, GHIL
Organizer: Forum Transregional Studies with the Max Weber Foundation in co-operation with the GHI London, UCL (Alice Stevenson, Subhadra Das), and the University of the West Indies, Mona (James Robertson)
Funding by: Federal Ministry of Education and Research (BMBF), Germany
University of the West Indies - Mona, Kingston (Jamaica)
10 December (6.30pm)
Public Lecture
Ulrich Herbert (University of Freiburg)

The Short and the Long 20th Century. German and European Perspectives
Gerda Henkel Visiting Professorship Lecture
Venue: German Historical Institute London
The Gerda Henkel Visiting Professorship is a joint project of the GHIL and the International History Department of the LSE and is funded by the Gerda Henkel Foundation.
12-14 December 2019
Conference
Translating, Travelling, Transferring Ideologies

Conference organised by the German Historical Institute London in conjunction with the London School of Economics and the Gerda Henkel Foundation
Conveners: Johanna Gehmacher and Elizabeth Harvey
Venue: German Historical Institute London