German Historical Institute London Bulletin
The GHIL Bulletin appears twice a year and contains articles and reviews of recent books on German and British history, as well as general information about the Institute's activities.
Journal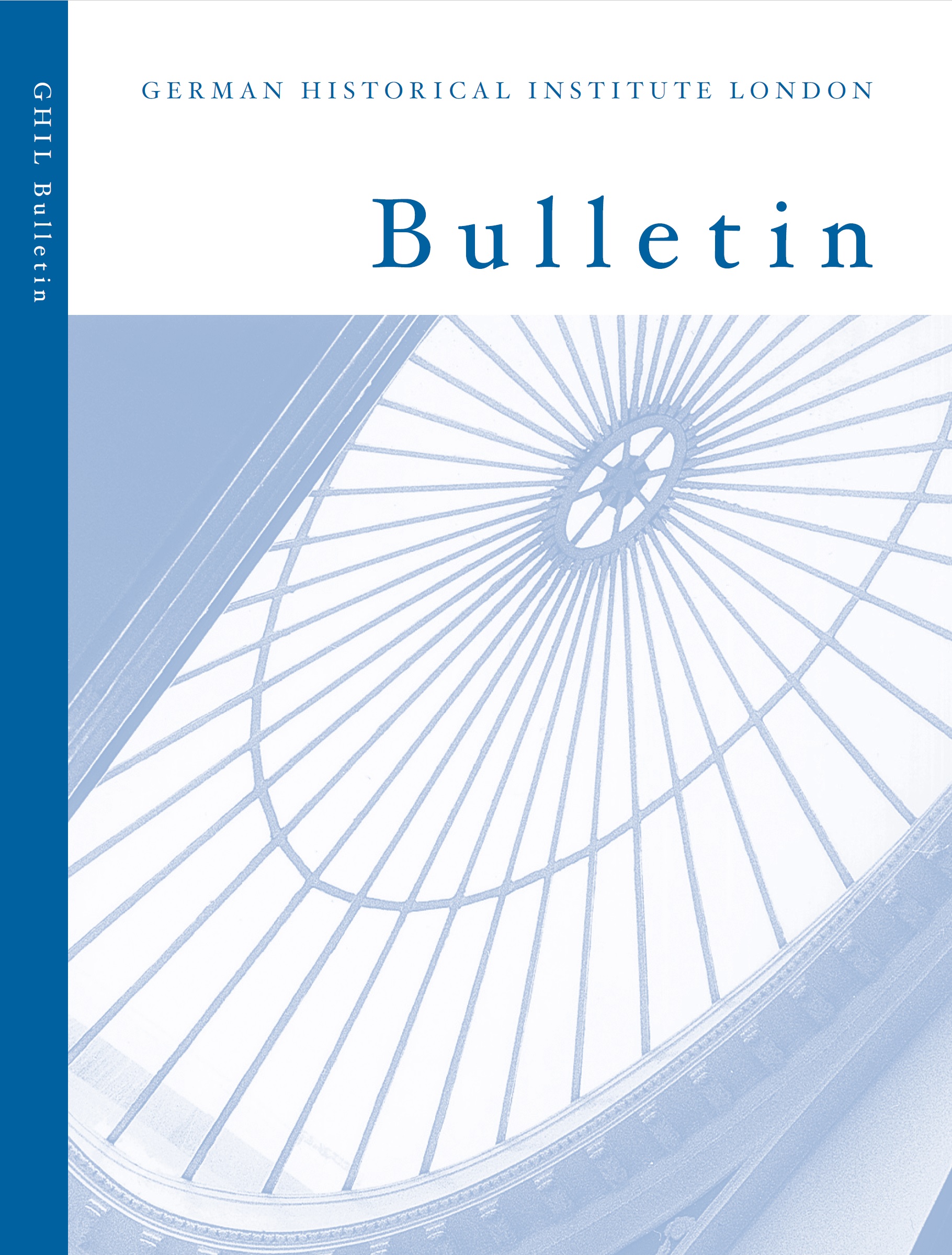 General Editor: Christina von Hodenberg
Managing Editor: Pascale Siegrist
Review Editor: Clemens Villinger
Editors: Markus Mösslang, Michael Schaich
Assistant Editors: Jozef van der Voort
Issue 1 (Spring, 1979) –

ISSN 0269-8552

From 1998 (Vol. 20, No. 1) available in print and online in open access.
Featured Article
Constantin Goschler

The Genius of Parliament: Cultures of Compromise in Britain and Germany after 1945
German Historical Institute London Bulletin, vol. 45 (2023), no. 1, 3–38
Featured Article
Martin Christ

The London Bills of Mortality: State of the Art and Future Directions of Research
German Historical Institute London Bulletin, vol. 45 (2023), no. 1, 39–75
Volumes 32,1 to 44,2 (contents and download)
| | |
| --- | --- |
| Vol. XLIV, No. 2, Nov. 2022 | |
| Vol. XLIV, No. 1, May 2022 | |
| Vol. XLIII, No. 2, Nov. 2021 | |
| Vol. XLIII, No. 1, May 2021 | |
| Vol. XLII, No. 2, November 2020 | |
| Vol. XLII, No. 1, May 2020 | |
| Vol. XLI, No. 2, Nov. 2019 | |
| Vol. XLI, No. 1, May 2019 | |
| Vol. XL, No. 2, Nov. 2018 | |
| Vol. XL, No. 1, May 2018 | |
| Vol. XXXIX, No. 2, Nov. 2017 | |
| Vol. XXXIX, No. 1, May 2017 | |
| Vol. XXXVIII, No. 2, Nov. 2016 | |
| Vol. XXXVIII, No. 1, May 2016 | |
| Vol. XXXVII, No. 2, Nov. 2015 | |
| Vol. XXXVII, No. 1, May 2015 | |
| Vol. XXXVI, No. 2, Nov. 2014 | |
| Vol. XXXVI, No. 1, May 2014 | |
| Vol. XXXV, No. 2, Nov. 2013 | |
| Vol. XXXV, No. 1, May 2013 | |
| Vol. XXXIV, No. 2, Nov. 2012 | |
| Vol. XXXIV, No. 1, May 2012 | |
| Vol. XXXIII, No. 2, Nov. 2011 | |
| Vol. XXXIII, No. 1, May 2011 | |
| Vol. XXXII, No. 2, Nov. 2010 | |
| Vol. XXXII, No. 1, May 2010 | Contents and download |
Volumes 20,1 to 31,2 (download only)
| | |
| --- | --- |
| Vol. XXXI, No. 2, Nov. 2009 | Download (PDF file, 2066 KB) |
| Vol. XXXI, No. 1, May 2009 | Download (PDF file, 1685 KB) |
| Vol. XXX, No. 2, Nov. 2008 | Download (PDF file, 2742 KB) |
| Vol. XXX, No. 1, May 2008 | Download (PDF file, 1254 KB) |
| Vol. XXIX, No. 2, Nov. 2007 | Download (PDF file, 601 KB) |
| Vol. XXIX, No. 1, May 2007 | Download (PDF file, 1627 KB) |
| Vol. XXVIII, No. 2, Nov. 2006 | Download (PDF file, 2464 KB) |
| Vol. XXVIII, No. 1, May 2006 | Download (PDF file, 1473 KB) |
| Vol. XXVII, No. 2, Nov. 2005 | Download (PDF file, 1506 KB) |
| Vol. XXVII, No. 1, May 2005 | Download (PDF file, 1596 KB) |
| Vol. XXVI, No. 2, Nov. 2004 | Download (PDF file, 1542 KB) |
| Vol. XXVI, No. 1, May 2004 | Download (PDF file, 2971 KB) |
| Vol. XXV, No. 2, Nov. 2003 | Download (PDF file, 1499 KB) |
| Vol. XXV, No. 1, May 2003 | Download (PDF file, 1188 KB) |
| Vol. XXIV, No. 2, Nov. 2002 | Download (PDF file, 991 KB) |
| Vol. XXIV, No. 1, May 2002 | Download (PDF file, 823 KB) |
| Vol. XXIII, No. 2, Nov. 2001 | Download (PDF file, 326 KB) |
| Vol. XXIII, No. 1, May 2001 | Download (PDF file, 356 KB) |
| Vol. XXII, No. 2, Nov. 2000 | Download (PDF file, 311 KB) |
| Vol. XXII, No. 1, May 2000 | Download (PDF file, 499 KB) |
| Vol. XXI, No. 2, Nov. 1999 | Download (PDF file, 547 KB) |
| Vol. XXI, No. 1, May 1999 | Download (PDF file, 430 KB) |
| Vol. XX, No. 2, Nov. 1998 | Download (PDF file, 394 KB) |
| Vol. XX, No. 1, May 1998 | Download (PDF file, 352 KB) |