German Historical Institute London Bulletin
The GHIL Bulletin appears twice a year and contains articles and reviews of recent books on German and British history, as well as general information about the Institute's activities.
Journal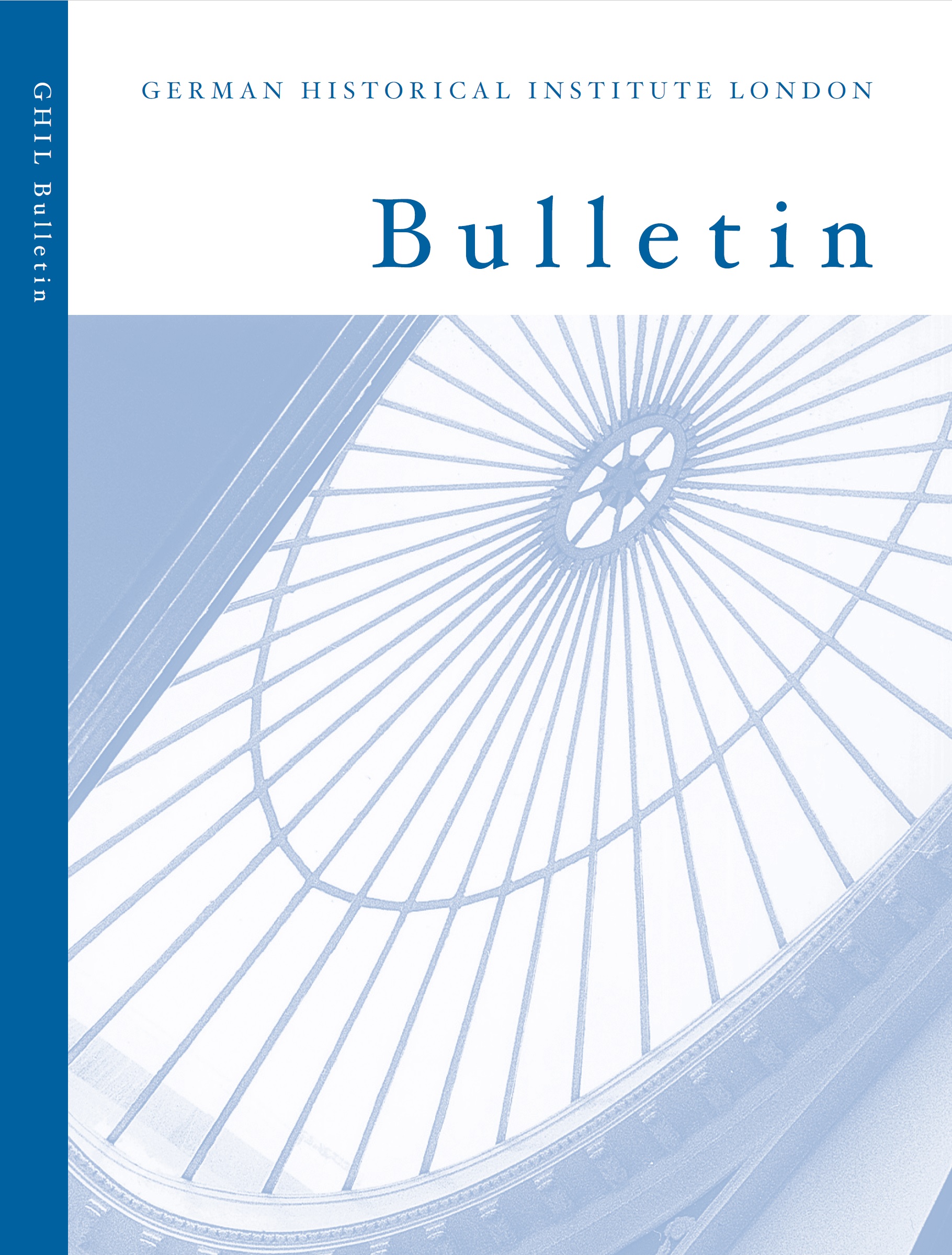 General Editor: Christina von Hodenberg
Managing Editor: Mirjam Brusius
Review Editor: Sina Steglich
Editors: Marcus Meer, Markus Mösslang, Michael Schaich
Assistant Editors: Angela Davies, Jozef van der Voort
Issue 1 (Spring, 1979) –

ISSN 0269-8552

From 1998 (Vol. 20, No. 1) available in print and online in open access.
Featured Article
Alexander Nützenadel

Fascism and Finance: Economic Populism in Inter-War Europe
German Historical Institute London Bulletin, vol. 44 (2022), no. 1, 3–27
Featured Article
Élisa Mantienne

Efficient and Wise? Elderly Abbots in English Benedictine Monasteries in the Fourteenth and Fifteenth Centuries: The Case of St Albans Abbey
German Historical Institute London Bulletin, vol. 44 (2022), no. 1, 28–51
Volumes 32,2 to 43,2 (contents and download)
| | |
| --- | --- |
| Vol. XLIII, No. 2, Nov. 2021 | |
| Vol. XLIII, No. 1, May 2021 | |
| Vol. XLII, No. 2, November 2020 | |
| Vol. XLII, No. 1, May 2020 | |
| Vol. XLI, No. 2, Nov. 2019 | |
| Vol. XLI, No. 1, May 2019 | |
| Vol. XL, No. 2, Nov. 2018 | |
| Vol. XL, No. 1, May 2018 | |
| Vol. XXXIX, No. 2, Nov. 2017 | |
| Vol. XXXIX, No. 1, May 2017 | |
| Vol. XXXVIII, No. 2, Nov. 2016 | |
| Vol. XXXVIII, No. 1, May 2016 | |
| Vol. XXXVII, No. 2, Nov. 2015 | |
| Vol. XXXVII, No. 1, May 2015 | |
| Vol. XXXVI, No. 2, Nov. 2014 | |
| Vol. XXXVI, No. 1, May 2014 | |
| Vol. XXXV, No. 2, Nov. 2013 | |
| Vol. XXXV, No. 1, May 2013 | |
| Vol. XXXIV, No. 2, Nov. 2012 | |
| Vol. XXXIV, No. 1, May 2012 | |
| Vol. XXXIII, No. 2, Nov. 2011 | |
| Vol. XXXIII, No. 1, May 2011 | |
| Vol. XXXII, No. 2, Nov. 2010 | |
Volumes 20,1 to 32,1 (download only)
| | |
| --- | --- |
| Vol. XXXII, No. 1, May 2010 | Download (PDF file, 2314 KB) |
| Vol. XXXI, No. 2, Nov. 2009 | Download (PDF file, 2066 KB) |
| Vol. XXXI, No. 1, May 2009 | Download (PDF file, 1685 KB) |
| Vol. XXX, No. 2, Nov. 2008 | Download (PDF file, 2742 KB) |
| Vol. XXX, No. 1, May 2008 | Download (PDF file, 1254 KB) |
| Vol. XXIX, No. 2, Nov. 2007 | Download (PDF file, 601 KB) |
| Vol. XXIX, No. 1, May 2007 | Download (PDF file, 1627 KB) |
| Vol. XXVIII, No. 2, Nov. 2006 | Download (PDF file, 2464 KB) |
| Vol. XXVIII, No. 1, May 2006 | Download (PDF file, 1473 KB) |
| Vol. XXVII, No. 2, Nov. 2005 | Download (PDF file, 1506 KB) |
| Vol. XXVII, No. 1, May 2005 | Download (PDF file, 1596 KB) |
| Vol. XXVI, No. 2, Nov. 2004 | Download (PDF file, 1542 KB) |
| Vol. XXVI, No. 1, May 2004 | Download (PDF file, 2971 KB) |
| Vol. XXV, No. 2, Nov. 2003 | Download (PDF file, 1499 KB) |
| Vol. XXV, No. 1, May 2003 | Download (PDF file, 1188 KB) |
| Vol. XXIV, No. 2, Nov. 2002 | Download (PDF file, 991 KB) |
| Vol. XXIV, No. 1, May 2002 | Download (PDF file, 823 KB) |
| Vol. XXIII, No. 2, Nov. 2001 | Download (PDF file, 326 KB) |
| Vol. XXIII, No. 1, May 2001 | Download (PDF file, 356 KB) |
| Vol. XXII, No. 2, Nov. 2000 | Download (PDF file, 311 KB) |
| Vol. XXII, No. 1, May 2000 | Download (PDF file, 499 KB) |
| Vol. XXI, No. 2, Nov. 1999 | Download (PDF file, 547 KB) |
| Vol. XXI, No. 1, May 1999 | Download (PDF file, 430 KB) |
| Vol. XX, No. 2, Nov. 1998 | Download (PDF file, 394 KB) |
| Vol. XX, No. 1, May 1998 | Download (PDF file, 352 KB) |